What We Learned This Past Week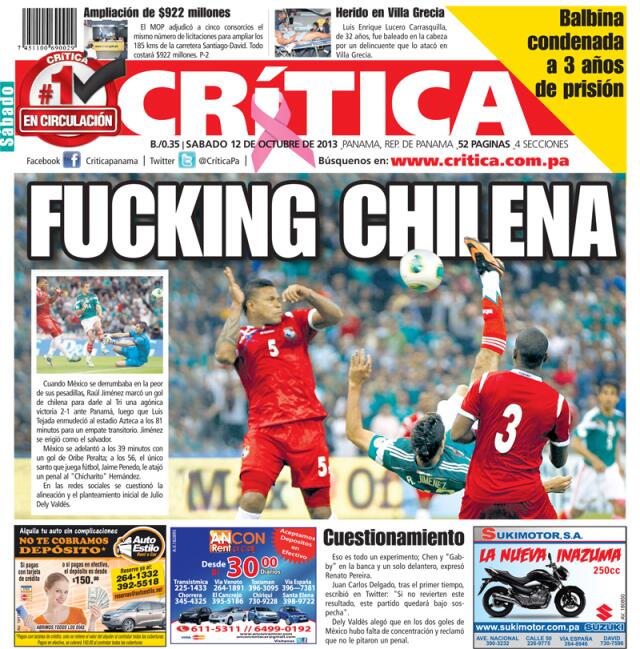 It's been quite a mad week in sport, as per usual. I take a look at some of the lighter moments, the dark moments and the down right crazy moments.
It's a bad week for:
It's a bad week for a foreign newspaper called 'Critica' as they gave us the best headline thus far;
The headline was created on Friday evening after Panama lost in epic fashion, 2-1 to Mexico in a crucial World Cup qualifier. Raul Jiminez's late bicycle kick, or Chilena in Latin, essentially kept Mexico's hopes alive while ending Panama's in the process.
So the editors of this newspaper establishment took it into their own hands to vent their own kind of frustration.
It's also been another bad week for former Republic of Ireland manager Giovanni Trappattoni as he said; "For a Country that has no national league, I feel I done a good job." Speaking to Tuttosport he insisted he done a good job. The former manager then got another battering from League of Ireland supporters on Twitter.
However, it's been a good week for: 
The German National side. They comfortably beat the Republic of Ireland 3-0 on Friday evening. However, many fellow journalists praised the Republic of Ireland's performance against the star-studded Germans. Goalkeeper David Forde turned into our best player which really kept the scoreline respectable.
Mesut Ozil, Arsenal's recent £42.5 million signing, was among Germany's better players and scored the killer third goal.
Fantastic quote: 
Republic of Ireland interim manager Noel King gave the press a fantastic line today out in Malahide. Noel King said how  Ireland have young players 'biting at the chomp.'
A fantastic line that works it's way into most headlines among the press.
Done and Dusted:
St Patrick's Athletic have captured their first league title in 14 years after beating reigning champions Sligo Rovers 2-0 on Sunday.
The three points handed the Inchicore side an insurmountable lead and Dundalk will be kicking themselves having failed to beat Bohemians on Saturday and effectively handing the Saints the title.
Here's to another fantastic week of sport.